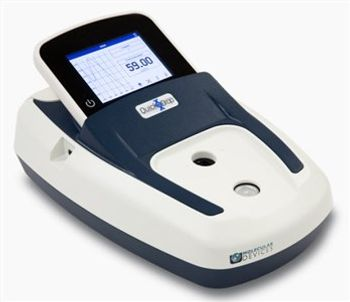 Reveal a world of information in one tiny drop.
The SpectraMax® QuickDrop™ Micro-Volume Spectrophotometer addresses the needs of life science researchers who quantify very small amounts of DNA, RNA, oligos, and proteins. The QuickDrop Spectrophotometer allows you to set up your laboratory with a minimal investment of time, cost, and effort.

Increased sensitivity without sacrificing speed
With a four second read time and no moving parts to skew the sample, or to potentially break, the QuickDrop Spectrophotometer maintains an accurate pathlength, providing you with results that are both fast and reliable, regardless of viscosity.

Easy-to-Use Stand-alone Unit with Small Footprint
The large, high-resolution touch-screen interface offers you the ability to take advantage of pre-configured analysis methods, set up your customized experiment with ease, and lets you work in your choice of five languages.

Streamlined Workflow
The QuickDrop Spectrophotometer is maintenance-free and requires no calibration. One-swipe cleaning streamlines your workflow and allows you to quickly move from sample to sample.

Flexible Data Analysis
View scan results on the large, high-resolution screen, or export data to your computer for additional analysis using a USB Flash Drive. No dedicated computer required.

The SpectraMax QuickDrop Micro-Volume Spectrophotometer allows you quantitate DNA, RNA, and protein samples quickly, easily, and accurately. Find out how the QuickDrop Spectrophotometer can help you reveal a world of information in one tiny drop.