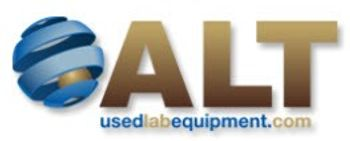 American Laboratory Trading Inc. (ALT), the largest provider of premium refurbished lab equipment in North America, has been selected by Agilent Technologies to be a part of its Channel Partnership Program.

In turn, ALT offers Agilent's factory-refurbished equipment – the highest possible quality outside of brand-new Agilent instruments – at affordable prices. ALT will sell Agilent certified pre-owned 1100 Series HPLC Systems and 6890 GC Systems, as well as individual components.

"Partnerships like these help manufacturers grow their customer bases by reaching members of the scientific community that are often underserved due to budget constraints," said Jayson Bernstein, president of American Laboratory Trading. "We're pleased to be able to offer certified Agilent equipment to this growing market segment."

All Agilent certified, pre-owned equipment is restored by Agilent engineers to same-as-new specifications. Each system comes with up-to-date licensed software, on-site installation and training, and a one-year warranty provided by Agilent Technologies. Components are sold with on-site installation and training, and the same one-year warranty.

"Agilent is very interested in supporting customers with budget constraints by offering affordable Agilent certified pre-owned instrument solutions in conjunction with ALT," said Sylvia Escobar, vice president of Americas Laboratory Solutions Sales for Agilent.