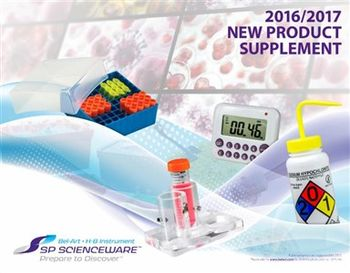 New challenges arise in the lab every day and finding solutions can be time-consuming and overwhelming. The 2016/2017 New Product Supplement from Bel-Art - SP Scienceware makes it easy by offering 28 pages of innovative, problem-solving products from GHS and OSHA compliant safety wash bottles, to magnetic bead separation racks and everything in-between.

"This supplement is the perfect complement to anyone already familiar with Bel-Art and H-B Instrument brand products, as it includes all new items introduced since our last full catalog," explains Teri Rocco, Senior Brand Manager for SP Scienceware. "It's also the perfect introduction for anyone who isn't already familiar with our company and the unique products we offer."

Uniqueness abounds with problem-solvers ranging from simple to specialty. Whether it's a Bluetooth data logger, antibody saver tray sets for performing Western Blots, freezer storage solutions including racks and boxes, or labels that can stand up to liquid nitrogen, there is undoubtedly a product in the supplement that can meet any laboratory's needs.