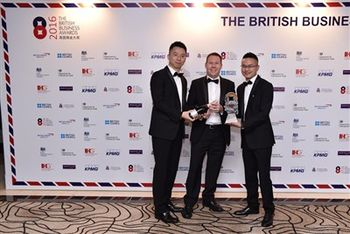 On the 3rd of November 2016, Peak Scientific, leading manufacturer of nitrogen, hydrogen and zero air laboratory gas generators, was awarded the Best New Exporter to China Award at the British Business Awards, held in Shanghai and hosted by the British Chamber of Commerce Shanghai. Peak was awarded this accolade for displaying several key business criteria within the Chinese market, namely, identifying a target market, growing export volume, adapting to meet the specific requirements of the Chinese market, creating a sustainable business model and making an impact on industry as well as key influencers in China.
The Best New Exporter to China Award, sponsored by the British Government's Department for International Trade, has recognized the efforts of the Peak team in China as well as the strategy and business model Peak has delivered throughout the globe and tailored successfully for the Chinesemarket.
With a growing business operation in China, Peak has placed increasing importance on this region, investing in a new office as recently as 2015 and increasing the number of dedicated Peak colleagues to service the Chinese market directly. There are now Peak engineers covering the length and breadth of China, able to provide Peak's industry leading, rapid response, on-site laboratory gas generator service to all of China.
Accepting the award for Peak was General Manager for China, Chris Harvey, who commented:
"The team in China have been growing steadily in the 4 years I have been at Peak. This award can be attributed to a lot of hard work both in China and with the great support and close interaction we have with our Global Headquarters in Glasgow, Scotland, in addition to Peak's great product and business model."
With continued growth expected for Peak's business in China, further expansion is planned with new dedicated offices in other key regions such as Beijing and Guangzhou in order to better serve customers in this region.