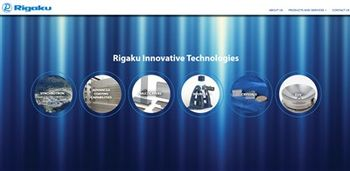 Easy navigation and wealth of information helps customers select
high performance multilayer optics
Rigaku Innovative Technologies (RIT), a global supplier of high performance multilayer optics, announces the launch of its new website, which features clear and intuitive navigation, striking images, and a wealth of useful information. The new website makes it easier than ever to learn about RIT's products and services, including Synchotron, advanced coating capabilities, multilayers, sources, crystals, and extreme ultraviolet (EUV) optical coatings.

The new website features information on RIT's single film, multilayer and crystal optics for synchrotron beamlines and end-stations. Learn about advanced coating capabilities, including magnetron sputtering chambers, an ion-beam sputter chamber, and reactive sputtering, plasma etch and ion polishing.

The website also includes information on RIT's high flux, high precision, high reflectivity multilayer X-ray optics for hard and soft X-rays and EUV-XUV applications. Rigaku has also introduced a full line of X-ray sources, ranging from the most high-power rotating anodes available in the world to high-brilliance microfocus sealed tubes. Specific information for X-ray crystals and EUV will be coming soon.

RIT has more than 30 years of experience designing and manufacturing world class reflective optics, and is the only independent volume manufacturer in the industry.
For more information visit www.rigakuoptics.com.