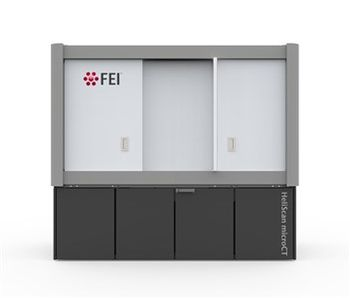 HeliScan MicroCT designed to allow materials scientists to nondestructively visualize and characterize internal structure down to the micrometer scale
Materials scientists can now gain valuable insight into the relationships between a material's structure at the microscopic level and its bulk properties using a new multi-scale imaging solution that is designed to provide large-scale, high-fidelity three-dimensional (3D) images of the sample. The new HeliScan MicroCT Imaging System will be presented at MRS, November 27-December 2, 2016 in Boston, Mass., FEI Booth # 701.
HeliScan is a critical component of a multi-scale, multi-modal workflow, which begins with a MicroCT scan using HeliScan and progresses through higher-resolution imaging with, for example, a Helios plasma-focused ion beam (PFIB) DualBeam, to atomic-scale analysis in a transmission electron microscope (TEM), such as a Titan system. When combined, these technologies provide a better understanding of a material's composition.
"Unlike a conventional circular scan, the helical scan is designed to enable fast, artifact-free imaging, even on historically challenging high-aspect ratio samples," said Trisha Rice, vice president and general manager, materials science solutions, Thermo Fisher Scientific. "Ultimately, this technology is designed to provide high-quality results – giving materials scientists insight into the internal structure of large, dense samples without the need for stitching, which can degrade the quality of the image and results."
At the University of Manchester's School of Materials, Regius Professor of Materials Philip Withers is applying advanced techniques to follow the behavior of material in real time and in 3D, often as they operate under demanding conditions. "We have been very pleased with the HeliScan's helical scanning capability in delivering both superb image quality and the ability to image high-aspect samples, such as fiber reinforced and tensile test samples in a single sweep," said Withers.
HeliScan is suited for imaging a variety of types and sizes of samples, such as polymers (including those that are fiber reinforced), carbon, metals, manufactured parts (such as batteries) and even life science samples, such as bone, tissue, plants, and insects (both stained and non-stained).

Highlights include:
• Non-destructive analysis, which preserves the specimen for further investigation with other techniques.
• Helical scanning technology, iterative reconstruction technique and wide cone-angle X-ray illumination designed to provide fast, high-resolution, low-noise results.
• Proprietary dynamic autofocus and drift correction capabilities designed for yield high-resolution, low-noise, distortion-free images.
• Eliminates need to stitch circular sections together, permitting efficient scanning of taller, more representative volumes and delivering images that are free of stitching-induced artifacts.
• Fast, iterative reconstruction technique uses a multi-grid approach to generate a mathematically accurate 3D model of the sampled volume.
• Further processing of images via Avizo® 3D data visualization and analysis software, designed to provide scientists with a powerful tool to explore and characterize reconstructed 3D structures.