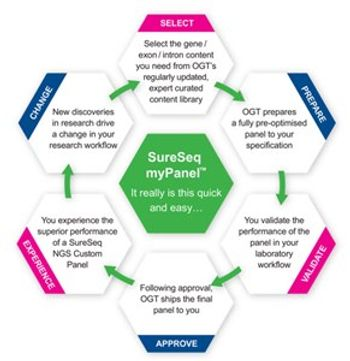 SureSeq myPanel™ NGS Custom FH Panels enable streamlined investigation of FH and customisation of content
Oxford Gene Technology
(OGT), The Molecular Genetics Company, has expanded its customisable SureSeq™ NGS panel range with the launch of the
SureSeq myPanel™ NGS Custom FH Panel
– allowing fast and cost-effective study of variants in familial hypercholesterolemia (FH). The new panel delivers both single nucleotide variation (SNV) and copy number variation (CNV) detection on a single small NGS panel assay and allows customisation by 'mix and match' of fully-tested and optimised gene and hotspot content. This includes all exons for LDLR, PCSK9, APOB, LDLRAP1, APOE, LIPA and STAP1 and a further 14 single-nucleotide polymorphisms (SNPs). This enables researchers to selectively sequence relevant regions, increasing throughput and saving on reagents.
FH is characterised by high LDL levels leading to early-onset coronary artery disease — treatable with statins. It is well characterised at the molecular level with various genes and multiple point mutations described. Analysis of mutations is often time-consuming when performed by multiple PCR or Sanger sequencing reactions and around 5-10% of mutations are due to CNVs, requiring further detection by Multiplex Ligation-dependent Probe Amplification (MLPA).
In order to cost-effectively streamline detection, OGT's FH panel will allow sequencing of all relevant gene regions in one assay. In addition, hybridisation-based enrichment delivers unparalleled completeness and uniformity of coverage, removing the need for supplementary fill-in by Sanger sequencing and enabling simultaneous detection of SNVs and CNVs. Detection of CNVs has shown complete concordance with microarray results (the gold standard for CNV detection) in all samples tested by OGT. This means that researchers can analyse CNVs with confidence, removing the need for additional MLPA testing, saving time and costs. OGT also has customisable CytoSure™ microarrays available for downstream CNV confirmation.
Dr Mafalda Bourbon, Head of the Cardiovascular Research Group at the National Health Institute Doutor Ricardo Jorge, Lisbon, Portugal, is using a custom FH panel and commented: "We were previously using another custom panel but found OGT's custom FH panel much easier and more cost-effective to work with. From the start we worked very closely with OGT on the design of the panel and were impressed by the support they gave us, especially with the bioinformatics. The ability to call CNV from the NGS data as well as point mutations is also extremely valuable to us. The fact that the panel is pre-optimised has reduced the need for in-house optimisation and decreased our assay development time."
OGT EVP Marketing, Emma Shipstone, added: "Being able to confidently detect SNVs and CNVs on one panel is a big step forward. Our hybridisation methodology and bait design expertise make this possible by ensuring our panels deliver outstanding completeness and uniformity of coverage. Areas of CNV can be easily identified within each sample — delivering an increased understanding of the sample more rapidly and cost-effectively for our customers."