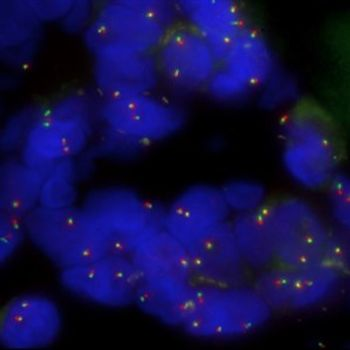 Oxford Gene Technology (OGT)
, The Molecular Genetics Company, has expanded its range of Cytocell Aquarius® fluorescence in situ hybridisation (FISH) probes for pathology. OGT has introduced three new probes: FUS Breakapart and FOXO1 Breakapart, both carrying the CE-IVD label – and TFE3 Breakapart, for research use only. This expansion reinforces OGT's commitment to providing the most comprehensive and up-to-date range available, facilitating cancer research and diagnosis.
Developed in response to customer need, the genes for both FUS and FOXO1 are both implicated in several debilitating neoplastic diseases. Recurrent rearrangements involving the FUS gene with a number of different partner genes have been reported in various types of neoplastic disease, notably soft tissue sarcomas and acute myeloid leukaemia. Translocations involving the FOXO1 gene are associated with around 80% of cases of alveolar rhabdomyosarcoma.
Commenting on the latest launch of Aquarius FISH probes, Steve Chatters, Senior Product Manager for Pathology at OGT, explained: "These new probes clearly show OGT's commitment to being a market leader for high-quality FISH probes in the fast-moving field of cancer research; with over 20 new FISH probes released in the last year, Cytocell's FISH portfolio is second-to-none in both range and quality. We are committed to keeping up with our customers' expectations by further expanding the Cytocell cancer FISH probe range in 2017."
Thanks to their excellent specificity, Cytocell Aquarius FISH probes deliver high-intensity signals with minimal background fluorescence. Probes are supplied as ready-to-use, premixed solutions to minimise the risks of experimental errors, delivering confidence in results.
Within the Cytocell portfolio, FUS Proximal Probe Red, FUS Distal Probe Green, FOXO1 Proximal Probe Green, FOXO1 Distal Probe Red, TFE3 Proximal Probe Red and TFE3 Distal Probe Green have been released as Analyte Specific Reagents (ASRs) in the United States.