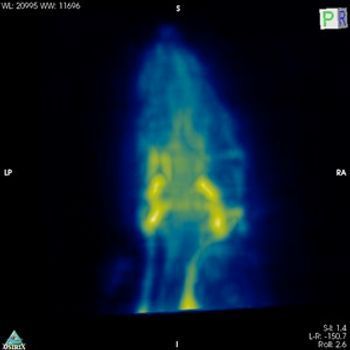 AXT is proud to be able to bring another cutting-edge technology to Australia that will help our medical researchers accelerate the rate at which they bring new cures, remedies and therapies to clinical realities. In this case,
AXT
have partnered with Magnetic Insight to make magnetic particle imaging (MPI) technology available to our researchers. This technology overcomes many of the shortcomings of existing medical imaging modalities such as sensitivity, resolution and high contrast.
MPI is a new and safe molecular imaging modality that will give researchers an unprecedented insight into the functioning of the target organs and tissue. It offers the sensitivity of nuclear medicine, resolution of MRI and the speed of CT.
Using magnetic nanoparticles (Super Paramagentic Iron Oxide; SPiO), researchers can follow these nanoparticles at nanomolar concentrations anywhere in the body regardless of tissue depth. These particles can be used to tag cells enabling detection down to 100 cells. The first MPI Imaging system called the Momentum from Magnetic Insight, can generate quantitative images with excellent contrast required to analyze functional responsesto various treatments and drugs. MPI will directly benefit researchers working in fields such as oncology,, vascular function, immunology, stem cell research, , theranostic imaging and functional nanoparticle targeting to namea few.
Researchers can follow the flow nanoparticles through the blood, and quantitate what is actually happening in real time. This type of information is invaluable to obtain a more holistic picture of what is going on in vivo. Furthermore, unlike other molecular imaging technologies it requires no exposure to radiation making it a safer alternative to some other medical imaging technologies and ideal for longitudinal studies over time frames even out to weeks or months.
Richard Trett, AXT's Managing Director said of the new distributorship agreement, "AXT is committed to bringing new and exciting technologies to Australia and MPI is one that has enormous potential. The technology offers high resolution, non-invasive functional imaging. It opens up long-term studies and other protocols impossible with PET and similar molecular imaging technologies. We look forward to meeting with potential adopters in the coming months to discuss how this technology can benefit their work."
Dr. Anna Christensen, CEO at Magnetic Insight commented, "we are changing the landscape of diagnostic imaging with the impact of what MRI, PET and CT offered over 30 years ago . MPI complements many of the existing imaging modalities but alsoprovides researchers and doctors levels of information that were not previously possible, all without radiation We look forward to working with the team at AXT to bring this technology to Australia."
The Momentum MPI imaging system is now available for preclinical imaging applications on small animals and utilises a workflow similar (and as simple) as optical imaging. MPI technology will likely become the next clinical molecular imaging modality and will enable early detection and monitoring of neurovascular diseases such as stroke.