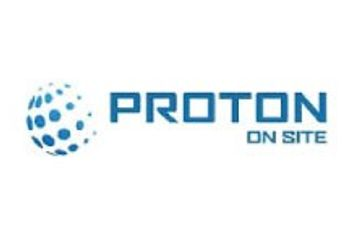 • World's largest megawatt PEM electrolyzer deal
• Electrolyzers to provide green hydrogen for fuel cell bus fueling in China
• 3 systems released for shipment; balance to ship over next 18 months
On December 3, 2016 in Shanghai, China,
Proton OnSite
("Proton") signed a contract with Guangdong Synergy Hydrogen Power Technology Co., Ltd. ("Synergy"), to provide megawatt-scale Proton Exchange Membrane (PEM) electrolyzers for the deployment of fuel cell-powered buses in the cities of Foshan and Yunfu, China.
Three of the megawatt systems will ship this summer, and an additional ten systems are planned to ship over the next 18 months, with the opportunity for significant recurring systems to follow. The agreement names Proton as the exclusive supplier of electrolyzers to Synergy and opens discussions for a joint venture to manufacture a portion of Proton's M Series electrolyzers in Foshan exclusively for the fueling market in China. Synergy has previously licensed fuel cell engine assembly technology from Ballard Power Systems (NASDAQ: BLDP; TSX: BLD) and is majority owner of a joint venture with Ballard in China. Synergy has also begun delivery of Ballard engines for use in powering the world's largest fuel cell bus program.
"We are thrilled that Proton was selected as the exclusive supplier of electrolyzers to support the largest global deployment of fuel cell buses," said Robert Friedland, Proton President and CEO. "The Foshan and Yunfu governments demonstrate great vision and leadership by supporting the implementation of leading electrolyzer technology to enable the production of green hydrogen for their mass transit needs. It's exciting to see how this supports air quality initiatives while contributing to continued economic development."
Mr. Ma Dongsheng Frank, CEO of Synergy stated, "We selected Proton, the global leader in hydrogen electrolyzer technology, as our exclusive technology partner. The introduction of Proton's technology to Foshan/Yunfu hydrogen industrial base is a strategic step toward a broader hydrogen economy by providing the possibility to store renewable energy and excess power in the form of hydrogen."
David Bow, Proton's Senior Vice President of Sales, Service and Marketing added, "This deal provides a significant contribution to an already strong 2017 backlog while adding to an extensive sales pipeline for our megawatt product line. Synergy, moving forward in this unprecedented scale, has the potential to accelerate other large opportunities we're working on."