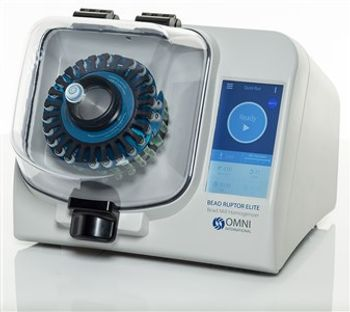 Omni International, Inc. announced today the release the Omni Bead Ruptor Elite, a new bead mill homogenizer featuring a newly integrated touchscreen user interface. Serving as an updated version of Omni's popular Bead Ruptor 24, the Elite is the most powerful and advanced bead mill homogenizer available today.
The Omni Bead Ruptor Elite showcases an innovative touchscreen dashboard that allows users to easily monitor and control homogenization preferences. The touchscreen is customizable with programmable protocol settings for speed and processing energy, time, number of runs, and dwell (or pause) between cycles.
The Elite's eight gigabyte memory allows users to designate and store over 100 protocol settings with customized titles for maximum repeatability. The user interface is multilingual and features a usage tutorial and a 'quick-run' feature for fast and simple processes.
Specifically designed for laboratories that require high throughput sample disruption, the Elite's optimized tube motion, with speeds up to eight meters per second, results in rapid and efficient sample disruption. Unrivaled in versatility, the Elite is compatible with the widest range of accessories, including an array of interchangeable tube carriages capable of processing sample volumes from 250 µL to 50 mL.
Designed with safety in mind, the Omni Bead Ruptor Elite is equipped with a sealed processing chamber, lid safety interlock, and a convenient front-loading design for ease of use. The Elite is ideally suited for extraction of DNA, RNA, proteins and small molecules from even the toughest of samples. An optional Omni Cryo cooling unit is available for heat sensitive samples.
Omni is currently offering an industry leading two-year warranty on the Omni BR Elite and free, two-week in-lab trial demos.