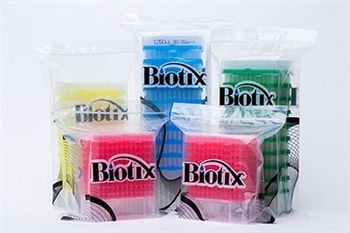 Biotix Inc., a leading designer and manufacturer of liquid handling tools, announces the introduction of CleanPak™, a reload solution for the lab that is looking to maximize lab space, reduce their environmental footprint and may even have a tight budget to work with. CleanPak is designed to keep contamination out. "Our development team noticed that most other reload systems are in paper packaging, thereby pre-contaminating the product before the consumer has a chance to open it," Explains Arta Motadel, Biotix CTO and the developer of CleanPak. "CleanPak gives an airtight seal in medical grade recyclable plastic packaging with no paper or other forms of contaminants. Thereby being contamination free and also available in a true pre-sterilized version."
Now 960 tips can sit on the lab bench using the same surface area as one rack. "Every ten cards of CleanPak comes with one rack base and lid, thereby making what little packaging we have usable rather than just waste. This base can also be used in the lab as a single well reagent reservoir," says Motadel. CleanPak accompanies the B3™ rack which houses both the Biotix uTIP™ Universal Pipette Tips and xTIP® Pipette Tips engineered for Rainin LTS-style pipettors. The B3 rack itself is designed for efficiency with a low environmental footprint. The rack uses less plastic than leading racks while maintaining a SBS stable footprint. The rack and the reload sleeves are both clear for easy identification and the tip cards are color coded based on tip volume.
"Our focus is to bring improvements through innovation while drastically reducing the waste that is associated with consumables", explains Arta Motadel. "CleanPak not only uses 60% less plastic and paper waste on an average over other re-load products, but it delivers a product that is truly contamination free. CleanPak is the only re-sealable reload system on the market that is hermetically sealed. It's not just recyclable but reduces waste with reusable components."
CleanPak is available now for uTIP (for universal pipettes) and xTIP (for Rainin LTS) non-filter pipette tips in sizes ranging from 10 μL to 1250 μL.