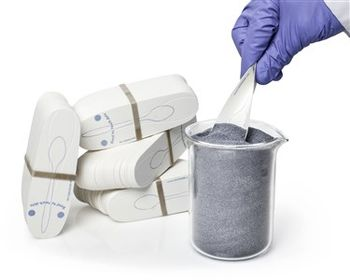 EcoTensil® Disposable Paper Sampling Spoons by Bel-Art® - SP Scienceware® are made of a coated paperboard that stands up to powders, gels, and semi solids.

"EcoTensil spoons lay flat when stored and, in one simple step, fold into a functional spoon for sampling and retrieving materials, making them a great, space-saving addition to any laboratory or testing facility," according to Ed Murphy, product manager for Bel-Art - SP Scienceware. "They also use 50-90% less material than comparable volume plastic spoons. They are compostable and recyclable, helping laboratories go green in 2017."

EcoTensil Spoons can be used as weigh boats, saving time and money by eliminating the need for glassine sheets.

EcoTensil Disposable Paper Sampling Spoons, catalog no. H36740-1030, have a suggested list price of $25.20 for a pack of 416 spoons.
Click here to get your FREE Sample