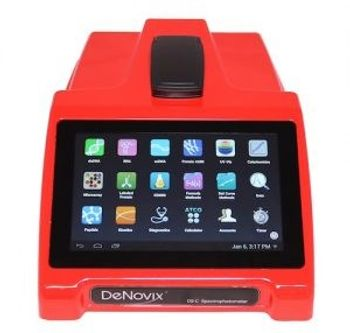 DeNovix Inc., a developer and manufacturer of life science instrumentation for bio-research announces the launch of the DS-C Cuvette Spectrophotometer.

The DeNovix DS-C Cuvette Spectrophotometer extends the DS-11 FX Spectrophotometer / Fluorometer Series and leverages the company's highly rated operating software and hardware. The DS-C is a stand-alone instrument engineered for rapid and accurate UV-Vis analysis across a wide range of applications and industries. Like other DeNovix instruments, the DS-C includes DeNovix' custom Android™ operating software, Wi-Fi / Ethernet network connectivity and a glove-compatible HD touch screen. Each instrument is calibrated for life, maintenance free and backed by an industry-leading three-year factory warranty.

The DS-C features built-in EasyApps® for full spectrum UV-Vis measurements, nucleic acid and protein quantification, kinetic studies and microbial cell quantification. An intuitive interface helps users quickly create custom methods that may be defined and saved in password-protected accounts. Results are automatically stored and easily exported to e-mail, USB, network folders, network printers, LIMS, USB drives and label printers. IQ/OQ documentation and performance verification software is available to help achieve compliance in GLP/GMP environments.

DeNovix Business Director Kevin Kelley stated, "Since the release of our DS-11 Spectrophotometer in 2013, we've had requests from researchers whose applications were a better fit for more traditional cuvette instruments. Our focus at DeNovix has been on our microvolume platform and achieving the best ease-of-use, lowest detection limits and broadest dynamic range for that class of instruments. We're pleased that we reached that goal in 2016. This was the right time to launch a DeNovix cuvette-based instrument and take advantage of our software, hardware and know-how."

DS-C owners can connect an optional DeNovix FX Fluorometer Module to any instrument. The FX Module is an affordable USB-connected accessory that allows researchers to measure picogram quantities of assayed samples with increased specificity. When used with DeNovix dsDNA Fluorescence assays, researches may quantify 1 – 20 uL samples over a dynamic range of 0.5 pg/uL – 4000 ng/uL dsDNA.