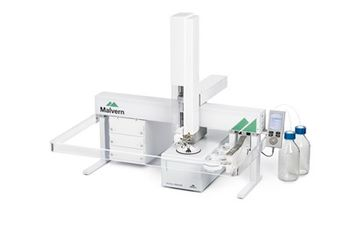 Water and detergent (Contrad 90) used as standard
The new MicroCal PEAQ-DSC microcalorimeter from Malvern Instruments resets the performance standard for characterizing protein and biomolecule stability. This latest innovation in Differential Scanning Calorimetry (DSC) has been created specifically for the regulated environment and delivers essential data to guide biopharmaceutical development, from protein engineering, through pre-formulation and process development, to formulation and manufacture of the final product.
The new system offers developers a quick stability assay to identify biotherapeutics with good stability potential and enables them to determine the conditions that maximize the shelf-life of a biotherapeutic. In manufacturing, it helps maximize yields of biotherapeutic compounds and supports the robust demonstration of batch-to-batch comparability or innovator to biosimilar comparability.
MicroCal PEAQ-DSC delivers unattended 24-hour operation, together with streamlined workflows and automated data analysis to produce results in hours, driving productivity and efficiency gains in research and production. In addition, the system is network-ready, and has built-in automated cleaning and self-validation protocols that minimize downtime and ensure that all data reported is of the highest quality. Dedicated instrument standards are available so that performance can be validated throughout a series of runs.
Importantly, MicroCal PEAQ-DSC is available with full documentation and software support for Analytical Equipment Qualification, in line with USP and FDA guidance, as well as a comprehensive package to aid technical compliance to FDA CFR Part 11 and EU GMP Annex 11.
Ronan O'Brien, Head of Business Development – MicroCal at Malvern, said: "We are very excited to be putting such a capable tool in the hands of our customers. We have worked closely with users of our previous-generation DSC system to make sure that the MicroCal PEAQ-DSC supports a wide range of needs across the biopharma development cycle. As the importance of biopharmaceuticals continues to grow, we see customers searching for powerful analytical systems that can deliver data that genuinely informs development, formulation and process decisions, as well as supporting regulatory challenges. DSC has long been considered the gold standard for stability measurement but now, with the new MicroCal PEAQ-DSC, we believe we have redefined what is possible with this technique."
MicroCal PEAQ-DSC is available in two versions: a standalone instrument that includes the DSC cell and a dedicated computer, or a fully automated system with the addition of a liquid handling robot. Either can be specified with the 21 CFR Part 11 software package.