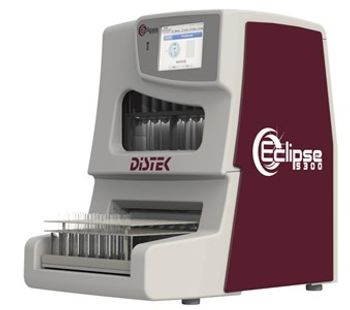 Distek, Inc., a leading manufacturer of laboratory testing instruments for the pharmaceutical and biotechnology industry, as well as an experienced provider of validation and qualification services, announced today the release of the Eclipse 5300 automated dissolution sampler.

The Eclipse 5300 Automated Dissolution Sampler by Distek offers rapid and accurate sampling using precision syringes. The elimination of valves and rotary pumps along with the short sample pathway and minimal dead volume increases reliability while eliminating and reducing common sources of sample carryover. The cost effective dual sampler configuration allows two different and independent dissolution methods to be run at any time.

"The Eclipse 5300 is unlike any dissolution sampler currently on the market. Our focus was to keep it simple yet advanced by automating and adhering as closely as possible to the manual sampling process. As a result, we are delivering to our customers a sampler that is easy to validate, highly reliable and can deliver rapid sample collections of the most challenging matrices and filter porosity," says Jeff Seely, Distek's Vice President of Sales & Business Development.