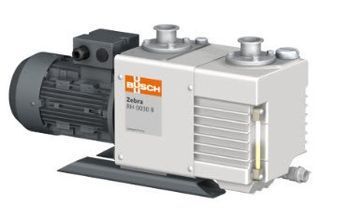 Busch Vacuum Pumps and Systems has now launched a new series of vacuum pumps for a wide range of applications. The new two-stage oil-lubricated rotary vane vacuum pumps Zebra RH were developed both for research laboratories and for production processes that work in the medium vacuum range.
Robustness and reliability of operation are the outstanding qualities of Zebra RH rotary vane vacuum pumps. The proven rotary vane vacuum technology from Busch has long established itself as the industry standard in the rough vacuum range. With the new series, Busch is now making inroads in the medium vacuum range. All Zebra RH sizes achieve ultimate pressures <0.0067 hPa (mbar). The series includes eight sizes and covers pumping speeds from 2.9 to 95 m3/h. Zebra RH vacuum pumps are thus also highly suitable as backing pumps for turbomolecular vacuum pumps and can be used in this combination in the high vacuum range.
The consistently high vacuum level in continuous operation is ensured by forced oil lubrication, perfectly coordinated materials as well as state-of-the-art precision manufacturing. Its quiet operation makes the Zebra vacuum pump series perfectly suited for use in research labs, where a low-noise working environment is essential. The advanced design ensures that only minimal maintenance is required. A gas ballast valve that can be manually switched on and off makes it possible to handle gasses with high water vapor load. Some of the application areas are mass spectrometry, leak detectors, glove boxes, vacuum coating and drying as well as various heat treatment processes.