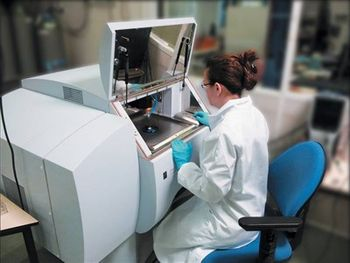 Leti, a research institute of CEA Tech, and HORIBA Scientific, global leader in spectroscopy solutions building on Jobin Yvon core technologies, today announced a webinar on April 4, 2017, to show the characterization capabilities of HORIBA Scientific's new Plasma Profiling Time-of-Flight Mass Spectrometer (PP-TOFMS) instrument.

As an innovative technique for material characterization, Plasma Profiling TOFMS provides elemental composition as a function of the depth of solid materials. This depth profiling technique consists of a glow discharge plasma source that erodes and ionizes sample material, coupled to an ultrafast time-of-flight mass spectrometer.

This process dramatically reduces optimization time in layer-deposition and fabrication of a wide range of materials applications, such as microelectronics, photovoltaics and optoelectronics. The tool is suited for doping monitoring, contamination detection and identification, and failure analysis.

The speed of the plasma profiling TOFMS analysis (few minutes) results from a variety of features, including (i) a high-density, low-energy sputtering plasma, (ii) an ultrafast full elemental coverage time-of-flight mass detection and (iii) minimal sample preparation and no UHV sample transfer. In addition, the full elemental coverage and the standard-free semi-quantitative ability make PP-TOFMS a valuable tool for fast-and-simple unexpected contaminant detection. Retrospective analysis and fast feedback are thus possible, limiting costly and time-consuming analyses and allowing rapid process development.

"HORIBA's novel materials characterization technique in a very compact instrument allows users to determine in a matter of minutes the depth distribution of any element for a wide range of materials," said Agnès Tempez, HORIBA Scientific product manager. "Our April 4 webinar with Leti will show numerous examples of the potential of our novel depth profiling technique for the development of thin films and devices, from growth to processing. It will also compare PP-TOFMS with the conventional more time-demanding SIMS depth profiling technique."

As part of a collaboration begun in 2015, Leti and HORIBA FRANCE SAS have installed HORIBA's latest plasma profiling time-of-flight mass spectrometer in Leti's cleanroom.

"HORIBA's Plasma Profiling TOFMS tool is a user-friendly instrument that can easily be implemented in a variety of scientific and engineering applications for many of Leti's industrial partners," said Emmanuel Nolot, Leti metrology leader. "We will continue to collaborate with HORIBA to test it on Leti's 200mm and 300mm advanced CMOS/3D platforms, the 200mm MEMS platform and our world-class nanoscale characterization platform."
Register for the webinar here.