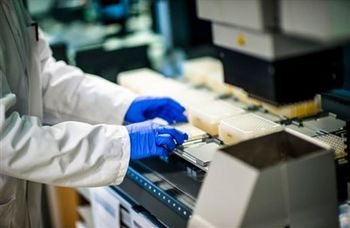 Isogenica Ltd, a leader in the design and construction of innovative and highly diverse synthetic antibody libraries, today announces the availability of its new fully synthetic, human Fab fragment library.
An announcement will be made at the 13th annual PEGS meeting in Boston, MA by Guy Hermans, Isogenica's CSO, who commented: "This novel fully synthetic antibody library, built using the company's DNA library synthesis method (COLIBRA™), takes advantage of the most up to date understanding of the human antibody repertoire. Combining massive sequence diversity and dispersity with high functionality and developability, it offers the most efficient route to therapeutic antibody lead identification. We provide this library in the industry standard phagemid display format to allow for immediate integration in our licensees' existing workflows".
Adam Collier, Isogenica's Director of Commercial Development, said: "This is a very significant opportunity for Isogenica and its licensees. Fully synthetic antibody libraries offer significant advantages over alternative methods of antibody discovery, and Isogenica has taken a lead in this field as shown by the increasing market uptake of our existing synthetic camelid single-domain antibody (VHH) libraries. Both products offer an excellent starting point for therapeutic antibody discovery. We look forward to enabling existing and new partners to find novel, developable therapeutic candidates quickly and efficiently".
Isogenica is a synthetic biology company focusing on the design and build of diverse antibody libraries for use in biopharmaceuticals. Partners can now access the company's new state-of-the-art, fully synthetic and highly diverse fully human Fab format antibody libraries as well as its camelid single-domain antibody library (llamdA™). These libraries will enable the generation of conventional IgG format monoclonal antibodies, domain antibody-based products as well as fusion proteins or bispecifics based on either/both platforms. The company uses its Colibra™ library technology to ensure that the constructs very accurately reflect its advanced library designs. Libraries can be screened in various formats, including phage and CIS-Display, a proprietary in vitro display technology which maintains the high diversity of the llamdA™ libraries through the discovery process.