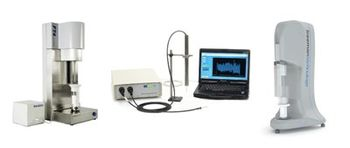 Powder characterisation specialists, Freeman Technology, continues to expand their global presence with the establishment of an operation in Japan and the appointment of Takashi Nishimura as Product Manager. Based in Kobe City, Mr Nishimura has over 10 years of experience working in the analytical instrumentation industry and will provide sales and customer support in the region.
Freeman Technology was founded in the UK in 1989 as a developer of automated testing systems for materials characterisation, and has focused exclusively on powders since the late 1990s. The company invests significantly in R&D and applications development, to provide comprehensive expertise to support its range of products. With over a decade of experience in powder flow and powder characterisation, expert teams assist users around the world to address their individual powder challenges, focusing on delivering the most relevant information for their processes. The result is world-leading solutions for understanding powder behaviour in development, formulation, scale-up, processing, quality control, or any area where powders are utilised.
"Japan has always been an important market for Freeman Technology. Establishing our own direct operation there reflects the growth we have seen over the last decade, and our continued commitment to our customers" said Tim Freeman, Managing Director.
Freeman Technology's solutions include the FT4 Powder Rheometer®, a unique and comprehensive powder tester, which uses patented dynamic methodology, automated shear cells (in accordance with ASTM D7891) and a series of bulk property tests to quantify powder behaviour in terms of flow and processability. This is complemented by the new Uniaxial Powder Tester, which provides an accurate and repeatable measure of the uniaxial unconfined yield strength (uUYS) of a powder to assess and rank flowability. The company also offers in-line, real-time flow measurement capabilities via an exclusive partnership with Lenterra Inc, manufacturers of optical flow sensor technology.
Mr Nishimura will work with prospective users from all industries and provide applications support for all users in the territory.