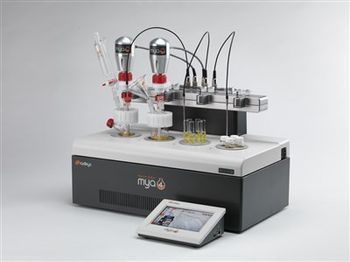 With stricter polices and deadlines for results, scientists are leaning on key performance technology to meet demands. Especially in the areas of research for parallel synthesis, crystallisation studies and process development the traditional hotplate set up isn't cutting it for proper data logging.
Based on researcher's needs and changing times Radleys, a UK based chemistry product manufacture, has developed and introduced the Mya 4 Reaction Station. In partnership with Radleys, Heidolph North America is exclusively providing this product line-up to North America.
Mya 4 is a 4-zone reaction station that offers precise heating, active cooling, software control and data logging for 24/7 unattended chemistry.
One of the biggest standouts is it allows for multiple experiments with individual control in a single compact benchtop system. Mya 4 provides ultimate flexibility: independent control over 4 zones, with active cooling and heating from -30 °C to +180 °C, a wide choice of vessels from 2 ml to 400 ml, and magnetic or powerful overhead stirring.
The versatile Reaction Station allows users to have more control over their chemistry than ever before. 24/7 unattended software control will increase safety and productivity, while reducing manual errors for better reproducibility and precision.
The intuitive touch-screen Control Pad means chemists can set experimental profiles for each individual zone, set safety limits, view real-time results and much more, with an easy-to-use interface that automatically logs all of the data in an exportable CSV format.
Users can select the optional Mya PC Control Software, which allows integration and control over multiple 3rd party devices such as syringe pumps, balances, vacuum pumps and pH sensors etc. on one screen. Experimental recipes and detailed reports can be exported and shared, with everything run from a PC.
Mark Radley, Managing Director of Radleys, is looking forward to seeing how Mya 4 can dramatically improve chemistry productivity:
"Our team of expert engineers and chemists have sought to solve the problem of multi-tasking chemistry with Mya 4. The system is designed so a single or multiple users can independently run experiment in 4 zones, each with very different parameters. Safer and more productive chemistry is at the heart of everything we do at Radleys. Mya 4 also allows chemists to automatically log and control experiments; improving safety, reproducibility and reducing manual errors. Mya 4 is a flexible and versatile reaction station, allowing chemists to easily manage complex multi-step and multi-device experiments. We look forward to enabling increased productivity in the world of chemical research."