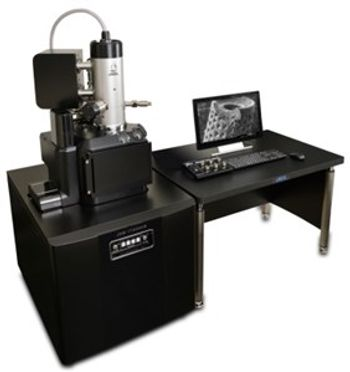 Ultrahigh resolution imaging of large samples in their native state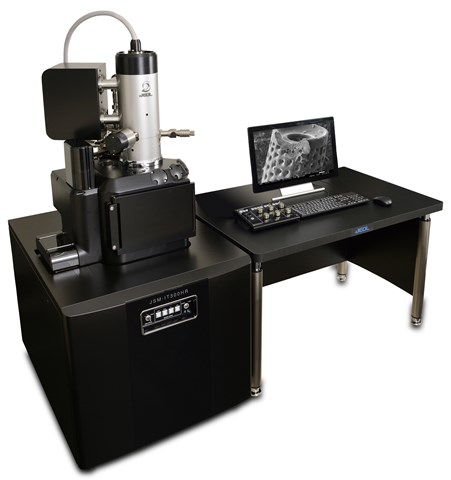 JEOL USA introduces a new Scanning Electron Microscope (SEM) that combines the performance of a Field Emission SEM with the simplicity of the JEOL InTouchScope SEM series. The new JSM-IT300HR features exceptional image fidelity at any kV with a high brightness, long life emitter.
Offering higher resolution and magnification than ever before in this series, the IT300HR greatly enhances surface topography and contrast.
A rugged in-chamber specimen stage and large chamber accommodate a wide variety of samples of different shapes, sizes, and weights, enabling users to secure large, heavy and odd shaped objects on the stage with clear positioning prior to evacuating the chamber.
The specimen chamber's twelve geometrically-optimized analytical ports allow for multiple detectors, creating a virtual nano-lab inside the SEM. Low vacuum capability is a standard feature and allows for imaging and analysis of all types of samples in their native state. When configured with a JEOL EDS detector, fast analysis is done directly within the SEM software interface.
InTouchScope™ series SEMs are designed to make operation intuitive, and controlled through touchscreen interface using multi-touch gestures and/or traditional keyboard/mouse and operation panel. A 'Navi' mode guides operation from sample introduction to automatic condition setting for new or occasional users.
"As a global leader in scanning electron microscopy for over 50 years, we've just changed the rules of the game," says Donna Guarrera, Asst. Director, SM Division, JEOL USA. "The JSM-IT300HR provides field emission performance on a very flexible but easy to use platform within a tungsten SEM's price range. "