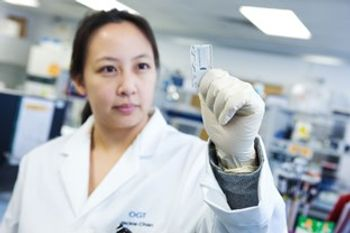 OGT's unique hybridisation expertise takes researchers from sample to sequencer in a single day
Oxford Gene Technology (OGT), The Molecular Genetics Company, has made several advances in hybridisation-based target enrichment protocols that now enable researchers to prepare samples for sequencing in just one day. Researchers can now access the high-quality results of hybridisation-based targeted sequencing with a speed comparable to that of amplicon-based approaches.
OGT's hybridisation-based targeted sequencing delivers unparalleled coverage uniformity enabling researchers to detect low frequency variants consistently down to 1% VAF (variant allele frequency) at a read depth of >1000x. The company's latest protocol developments enable even more researchers to quickly and precisely focus in on regions relevant to their research - increasing throughput and confidence in results while saving on time and reagents.
OGT's hybridisation assay enhancements improve speed and also enable lower input levels of DNA to be used. The company has optimised its enzymes and buffers to allow pooling of library preparation steps enabling users to complete the whole enrichment protocol in less time. This includes a short enzymatic fragmentation step, combined end-repair and adaptor ligation steps, and an optimised hybridisation of just 30 minutes for good quality DNA samples. In addition, OGT's NGS panel optimisation yields good data with as little as 10 ng of starting material*.
Dave Cook, Senior Product Manager at OGT, elaborated, "OGT was founded by Professor Sir Edwin Southern — inventor of the Southern Blot — so the company is, at its very core, a hybridisation company. This permeates through everything we do and gives us a very unique level of expertise. It's clear that our hybridisation-based target enrichment has many advantages over amplicon methods in terms of quality and the ability to sequence through difficult regions, protocol length was a further area for improvement. Now, thanks to our efforts, hybridisation has moved forward and we are in a position where we can take users from sample to sequencer in a single day, enabling more researchers to gain the benefits of our technology. We are committed to continue pushing hybridisation-based technologies forward to help our customers achieve their goals."
OGT has also recently expanded its fully tested and optimised SureSeq myPanel™ NGS Custom Cancer Panel content, covering both haematology and solid tumours. The new content provides optimised coverage for over 90 genes, including difficult-to-sequence genes and other regions.