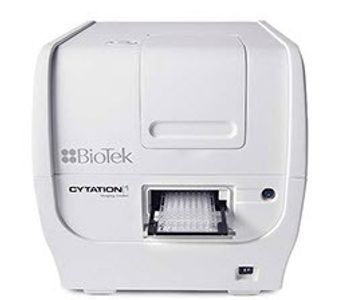 BioTek Instruments introduces the Cytation™ 1Cell Imaging Multi-Mode Reader as an affordable entry into automated digital quantitative microscopy along with multi-mode microplate detection. This patented combined solution provides quantitative
phenotypic cellular information and well-based quantitative data, while the modular architecture allows users to satisfy their current research needs, and upgrade with additional modes to suit future needs.

The digital microscopy mode includes fluorescence and high contrast brightfield channels for visualization from 1.25x to 60x without the expense and complexity commonly associated with other digital microscopy systems. Additionally, automated XY stage, focus, and LED intensity facilitate imaging throughput, especially during cell-based applications such as 3D spheroid imaging. The multi-mode detection module includes sensitive filter-based fluorescence and luminescence along with monochromator-based UV-Vis absorbance for flexibility in a wide range of endpoint, kinetic, inject/read and other assay types. Both modules incorporate powerful, user-friendly Gen5™ Microplate Reader and Imager Software for seamless image capture to quantitative publication-ready data with no extensive training required.

Cytation 1 also offers 4-Zone™ temperature control, variable shaking modes, CO2/O2gas control and angled reagent injectors. Cytation 1 can be integrated with BioTek's BioStack™ Microplate Stacker or BioTek's BioSpa™ 8 Automated Incubator to automate throughput and long term live cell kinetic imaging. It is compatible with a variety of sample vessels, including microplates, slides, cell culture dishes and flasks, hemocytometers and the Take3™ Micro-Volume Plate. By combining quantitative microscopy and multi-mode detection into one compact unit, Cytation 1 is an affordable solution for a wide range of live and fixed cell, and traditional biochemical applications.

BioTek Instruments, Inc., headquartered in Winooski, VT, USA, is a worldwide leader in the design, manufacture, and distribution of innovative life science instrumentation. Our comprehensive product line includes cell imaging systems, microplate readers, washers, dispensers, automated incubators, stackers and pipetting systems. These products enable life science research by providing high performance, cost-effective analysis and quantification of biomolecules, biomolecular interactions and cellular structure and function across diverse applications. BioTek espouses a "Think Possible" approach that sets the tone for fresh ideas, unsurpassed customer service and original innovations.