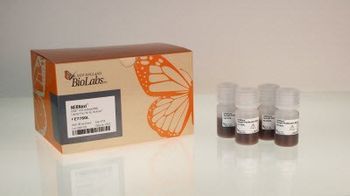 New Ultra II technology addresses lower input amounts and challenging sample types for Illumina® next generation sequencing systems
New England Biolabs (NEB®) today announced the expansion of their NEBNext Ultra II NGS library preparation product portfolio to include kits for RNA. The strand-specific NEBNext Ultra II Directional RNA Library Prep Kit and the non-directional NEBNext Ultra II RNA Library Prep Kit are both designed for Illumina next generation sequencing systems, and substantially improve upon their predecessors. The kits are compatible with poly(A) mRNA isolation and ribosomal RNA (rRNA) depletion, and libraries can be constructed from a substantially broader input range (5 ng to 1 µg of total RNA) at high yields. Library complexity and transcript coverage are excellent even at low input amounts and with low quality samples such as formalin-fixed, paraffin-embedded (FFPE) RNA.
"As RNA-seq is adopted for a growing range of applications, there is an increasing need for high-quality, reproducible library preparation methods that use very low amounts of RNA, particularly from precious clinical samples, but don't compromise library quality," said Fiona Stewart, NEBNext Product Portfolio Manager at NEB. "We've re-formulated each step of the workflow for this new generation of NEBNext RNA kits to accommodate as little as 5 ng of total RNA. Yields are increased, so fewer PCR cycles can be used, and library diversity and transcriptome coverage are excellent even at low input amounts; all with automatable workflows."
The NEBNext Ultra II kits address many of the difficulties associated with library preparation, according to reports from early access users. For Jen Grenier, Ph.D., Director of the RNA Sequencing Core at the College of Veterinary Sciences of Cornell University, the need to use low inputs of total RNA has been a barrier with other protocols –
"The Ultra II RNA kit has allowed us to reduce the input for directional polyA+ RNA-seq libraries by a factor of 10 or more. We can now make a library with only 10 ng high quality total RNA and get the same gene expression profile as for 1 µg input. We've even pushed the input as low as 1 ng for very high quality total RNA. Furthermore, the library prep protocol is streamlined compared to the previous Ultra RNA kits, including a reduction in AMPure® bead cleanups and PCR cycles, resulting in better libraries for less time and resources."
Brian James, Ph.D., Genomics Facility Director at the Sanford Burnham Prebys Medical Discovery Institute also noted "I used the NEBNext Ultra II Directional RNA Library Prep Kit to process very low input (7-8 ng total RNA) samples from difficult to obtain tissue for one of our customers, and I am very pleased with the results."
The NEBNext Ultra II workflows include new reagents, combined steps and minimized cleanup steps, making the kits fast and easy to use. NEB's protocols for constructing RNA libraries with Ultra II, including rRNA depletion or poly(A) mRNA enrichment, require under 30 minutes hands-on time and can be finished in ~6 hours. The protocols are compatible with adaptors and primers from NEB or other sources. The NEBNext Ultra II Directional RNA Library Prep and the non-directional Ultra II RNA Library Prep workflows are available in kit or module format, and with optional SPRIselect® beads for size-selection and cleanup steps.