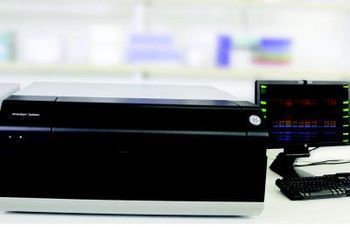 Save time with accurate quantitation of three proteins, enabling normalization, in a
single blot
Amersham™ Typhoon™ NIR Plus
is the latest modular and upgradable near-infrared imaging system from
GE Healthcare's Life Sciences business
. NIR Plus' three-laser flexible configuration provides two essential NIR channels, as well as a third visible laser channel for triplex protein detection to facilitate normalization and the reduction of blot-to- blot variation, saving valuable research time. Ideal for multiuser environments, it delivers extremely sensitive detection, high image resolution, and a very broad linear dynamic range with multi-fluorescent, and stained samples. Able to scan up to 9 microtiter plates simultaneously, it is also suitable for high-throughput screening, and enables the detection of distinct, high-resolution bands in Western blotting.
NIR Plus is an affordable, user-friendly, open imaging platform that is compatible with most commercially-available NIR detection reagents. Its open-format data files enables direct analysis with commonly used image analysis software such as ImageJ.
NIR Plus accommodates a wide range of diverse samples with high (10 µm) resolution, a dynamic range of greater than 5 orders of magnitude, and high sensitivity of as low as 3 pg, including tissue sections, plant leaves, and cell colonies in addition to traditional gels, membranes, multi-well plates and dishes.
Amersham Typhoon NIR Plus offers:
Time Saving: Visualize up to 3 proteins, including normalization, in a single blot
Sample diversity: Images tissue sections, plant leaves, and cell colonies as well as gels, membranes, multi-
Well plates and dishes*
High sensitivity: Detects signals as low as 3 pg of protein, and differences across a broad linear
Dynamic range greater than 5 orders of magnitude
High resolution: Pixel resolution as low as 10 µm
High sample throughput: Large scanning area (40 x 46 cm) can simultaneously scan 9 microtiter plates, or 20
Gels/blots
Easy-to- use interface: Open-format data files are compatible with image analysis software such as ImageJ
Flexibility: Modular and upgradable platform, from 2 up to 5 lasers