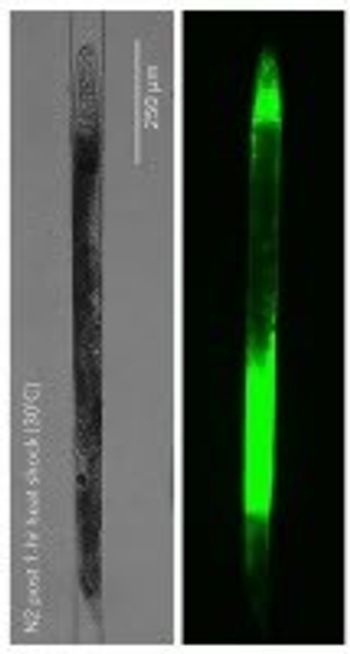 Fluorescent kits designed for use with ScreenChip System for automatic screening and phenotyping
NemaMetrix, a company developing nematode-based drug development and screening technologies, today announced the launch of its first series of RediStain™ fluorescent kits for improved visualization of C. elegans' structure and function in phenotyping studies. These kits expand the toolkit of C. elegans research to include the ability to perform structural and functional assays that are standard in cell biology.
Used with the company's ScreenChip System, the new staining kits provide a more efficient way to study nematode phenotypes and their directly-related underlying genotypes, which would not be possible with non-fluorescent techniques.
NemaMetrix has developed the ScreenChip System, a first-in-class automatic screening and phenotyping platform utilizing C. elegans as the model organism, which acquires and displays neuromuscular data in real time. The technology allows researchers to rapidly generate and collect precise whole-animal data via quick and
reliable assessment of neuronal and physiological responses to genetic mutations, drug effects and other environmental changes. The platform provides an alternative to enable researchers to better understand human diseases and explore potential treatments for high-impact disorders. The ScreenChip System is currently being used in aging, neurodegenerative, and cardiac diseases studies, as well as in drug development and developmental biology.
C. elegans is one of the world's most well understood model organisms; the nematode worm has
phenotypes that can be directly related to human genes, with homologues identified for up to 80% of human genes, and a lifespan of just 14 days. This makes it a powerful experimental model for investigating human disease, allowing researchers to explore and discover new phenotypes that are difficult and expensive to assess using traditional models and methods.
Matt Beaudet, CEO of NemaMetrix commented: "C. elegans is an inexpensive, live-animal model which has the potential to revolutionize the drug development process. The introduction of fluorescent staining kits to our ScreenChip System will make previously invisible phenotypes easy to visualize, allowing scientists to generate more and better quality data on neuronal and physiological responses to a wide range of genetic and environmental changes."