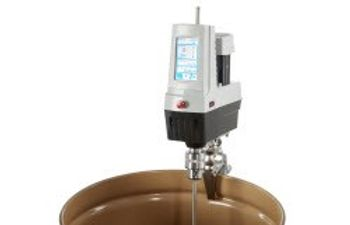 Beautiful! The Caframo Crossover 1540 overhead mixer is in stock! Designed in response to requests from end users and industry experts, this electronic sophisticated high torque mixer is truly unique to the marketplace. With a ½ horsepower motor delivering 3000 N?cm of torque, this mixer brings effective mixing to large laboratory, pilot scale, and small production volumes. The Crossover has the portability and quick installation required by today's flexible and agile facilities.
The Crossover is designed to mix up to 200 L (50 gallon) drum volumes from 50-1500 rpm, with the option of clockwise or counterclockwise rotation. New to this Caframo product is the resistive touch screen, allowing operation without removing gloves, displaying speed, time, and torque during operation. Use LabVIEW, HyperTerminal or C Sharp with the universal command set to control the mixer remotely using a PC or PLC, to meet today's needs for process control and documentation. Installation is immediate with a standard 120 V cord set and four bolt mounting, and the mixer is maintenance free.
The Crossover is available through our distributor partners, with a variety of accessories to fit your mixing application and facility needs. A new adjustable height stand is now included in our offering with rolling casters for portability, or the ability to install directly to a surface or floor. Mounting options include a C-clamp compatible with the side of a drum or a vertical plate, or a plate mount for a more permanent or custom installation. Safety approved (CSA) to current standards, the mixer also ships with a chuck shaft guard for additional protection. Other accessories that are available include large 4 in and 6 in propellers and shafts and replaceable touch screen protector covers.