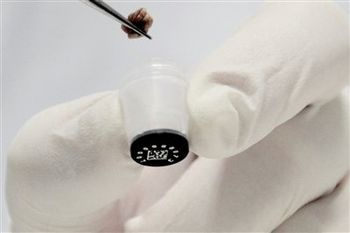 Designed with special features for the storage of fresh frozen tissue samples,
Micronic
releases the innovative and secure
1.00ml
and
3.50ml
tubes with external thread. With these uniform tissue storage products, Micronic enables biobanks to standardize and automate the handling and storage of tissue samples in the same way as their liquid samples. As a result, the chance of mixing up tissue biopsy samples during handling is minimized, while the sample integrity during storage is maximized.
The tissue tubes feature a wide opening for easy loading and are shallow for the removal of tissue samples using tweezers. Various sizes of tissue samples can be stored in the tubes. The tubes are optionally available with a transparent cap, for easy visual checking of the enclosed tissue sample from above. The tissue tubes are available in a 1D barcoded Micronic ULT rack based on the automation-friendly ANSI/SLAS rack format (the 48-1 and 24-2 Rack), and provided with a 2D Data-Matrix code for complete traceability. They are compatible with the Micronic range of Univo Screw Cap Recappers and automated systems. In addition to storage, the flat bottomed tubes can also be used for secure transportation of tissue samples.
The 1.00ml and the 3.50ml tubes are the next sizes in a range of new designs featuring an external thread. Using externally threaded tubes for tissue sample storage eliminates the possibility of the tissue piece getting stuck in the screw thread, improving sample integrity. Due to thick tube walls, the tube has a sturdy design and excellent properties for ultra-low temperature storage.
To ensure long-term tissue sample preservation and storage, the triple thread of the tissue tubes gives an excellent closure and horizontal placement of the cap. For optimal sealing quality, the screw cap also has a triple start thread. To prevent the cap from overturning - manually or mechanically – it is designed with a unique lock when sealed. For better handling, the screw cap has an outside grip.
The code surface of the tissue tubes features a raised edge, which protects the 2D code against accidental scratches. Due to the unique injection molding technique used to manufacture the tissue tubes, the black code surface with 2D Data-Matrix code cannot be separated from the transparent tube. The 2D codes also have a human-readable code for additional identification. The codes are permanently laser-etched into the tube bottom so that they can never wear or fall off.