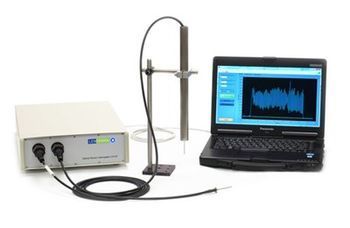 Freeman Technology
, the powder characterisation specialists, will be exhibiting at Powtech on stand #4-547 (26-28 September 2017, Nüremberg, Germany). This year the company will be demonstrating pioneering new technology for in-line, real time process monitoring via an exclusive partnership with Lenterra Inc., manufacturers of optical flow sensor technology.
Lenterra's Drag Force Flow (DFF) and Wall Shear Stress (RealShear™)
probes provide continuous, real-time data, via optical fibres, enabling users to assess processes and make decisions, without the need to interrupt operations.
Freeman Technology's solutions also include the FT4 Powder Rheometer®, a unique and comprehensive powder tester, which uses patented dynamic methodology, automated shear cells (in accordance with ASTM D7891) and a series of bulk property tests to quantify powder behaviour in terms of flow and processability. This is complemented by the new Uniaxial Powder Tester, which provides an accurate and repeatable measure of the uniaxial unconfined yield strength (uUYS) of a powder to assess and rank flowability.
The company's material characterisation solutions aim to optimise process performance, increase productivity and improve quality in a diverse range of sectors. The entire product portfolio will be on display at Powtech in Hall 4 Stand 547, where visitors can also pick up a copy of the recently released application note 'In-Line PAT for High Shear Wet Granulation by Measuring Drag Force Flow'.
Representatives from Freeman Technology, including a new Product Manager for Germany, will be on hand throughout the event to discuss all aspects of material characterisation and the challenges associated with powder handling and processing.