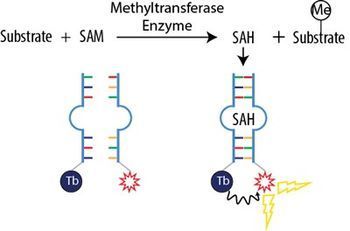 Methyltransferases have become a major focus of drug discovery for cancer and other diseases driven by epigenetic factors. BellBrook Labs' new, ultra-sensitive AptaFluor™ SAH Methyltransferase Assay eliminates cost and sensitivity barriers that are slowing the discovery of methyltransferase inhibitors.
BellBrook Labs
announces the launch of their latest drug discovery tool, the
AptaFluor SAH Methyltransferase Assay
, an enabling new high throughput screening (HTS) assay to aid researchers in their search for breakthrough drugs targeting epigenetic pathways that drive cancer and other debilitating diseases.
Chemical modification of gene expression, also known as epigenetics, is perhaps the most promising area for molecularly targeted drug discovery since validation of kinases as drug targets. Methyltransferases are the largest class of epigenetic enzymes, and several have been shown to play a causative role in cancer and other diseases. Several years ago, major drug discovery efforts were initiated using HTS to identify methyltransferase inhibitors, much like the successful approach used for protein kinases. However, due to their intrinsic properties, detection of methyltransferase activity requires extremely sensitive radioactive assays and/or large amounts of methyltransferase enzymes, which made HTS impractical in many instances. For these reasons, there has been a long-standing need for more sensitive, non-radioactive assays to enable robust, cost effective screening of methyltransferase targets.
As a first-of-its-kind homogeneous assay using aptamers (nucleic acid-based affinity reagents) for HTS, the AptaFluor SAH Methyltransferase Assay provides an elegant solution to the cost and sensitivity barriers that were hampering the discovery of methyltransferase inhibitors. Methyltransferases produce a variety of methylated products, but all use S-adenosylmethionine (SAM) as the methyl donor, leaving S-adenosylhomocysteine (SAH) as a common reaction product. The AptaFluor SAH Assay is based on a naturally occurring microbial aptamer, discovered by Yale University professor Ron Breaker, which evolved to recognize SAH with exquisite sensitivity and selectivity.
BellBrook scientists engineered the SAH aptamer to produce a fluorescent signal on binding to SAH, resulting in a non-radioactive assay with unparalleled sensitivity. By directly detecting SAH, the new AptaFluor assay is universal, allowing the researcher to use the assay for virtually any methyltransferase enzyme. The assay utilizes a simple mix-and-read format with a far red positive TR-FRET readout, ensuring its compatibility with automated dispensing equipment and plate readers commonly used for HTS. With this novel assay technology, scientists can now more easily study challenging methyltransferase targets with the efficiency demanded by today's drug discovery programs.