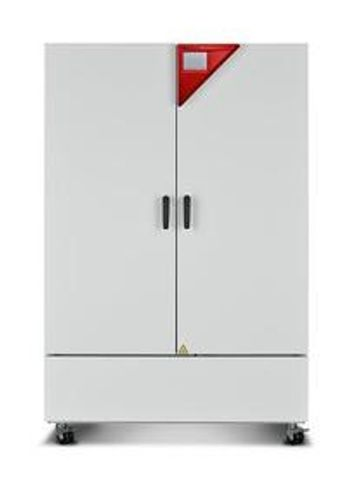 New controller and updated pre-heating technology provide stable long-term testing
With an interior volume of 36 cu. ft., the KBF 1020 constant climate chamber from BINDER Inc. offers dependable storage for either large quantities of test specimens or for large samples. The units feature a new touchscreen controller for programming ease and the latest generation of BINDER APT.line preheating technology, which provides high-level temperature accuracy – even under full load – with outstanding temperature uniformity.
Functions are clearly displayed on the 5.7" touchscreen and its intuitive and easily navigated smart menu. The program controller regulates chamber conditions and can be used to program temperature and humidity cycles in real time. Password-protected access levels prevent unauthorized access. Status and alarm notifications and a built-in USB port are included.
The latest member of a line that includes models with 3.6, 8.7 and 24.7 cu. ft. interiors, the KBF 1020 provides reliable protection against condensation. A reinforced inner chamber and fixtures made of stainless steel eliminate electrochemical corrosion. When storing pharmaceuticals for stability testing, country-specific climatic conditions can be accommodated. A capacitive sensor and responsive system provide precise humidification and finely adjustable humidity control.
"Facilitating shelf-life and stability testing of large samples, this chamber offers scientists and engineers considerable savings in time and costs," said Uwe Ross, President, BINDER Inc. "Incorporating the world-class reliability of BINDER engineering, the KBF 1020 chamber provides users with dependable value."
With a temperature range of 0 to 70 °C and a humidity range of 10 to 80 % RH, the chamber includes a Class 3.1 independent temperature safety device (DIN 12880) and a heated door, all contributing to overall performance. Quality tap water, the BINDER PURE AQUA Service water treatment system, or an external water source can be used.