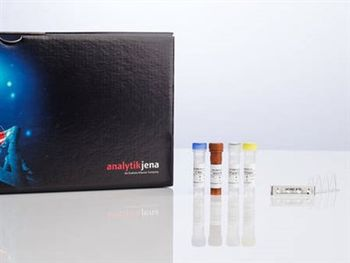 Hepatitis C (HCV) infection is the most common cause of liver cell carcinoma and liver transplants in Europe, which are possible late-stage effects of a chronic infection, alongside cirrhosis of the liver. An antiviral therapy to eliminate the hepatitis C virus allows a treatment and curing of the infection. The standardized approach for monitoring the effectiveness of the therapy involves the repeated quantitative measurement of the patient's HCV RNA levels. This requires the use of a highly sensitive HCV RNA assay.
The CE-IVD certified workflow from
Analytik Jena
, including the INSTANT Virus RNA/DNA Kit for nucleic acid purification in combination with the
RoboGene® HCV RNA Quantification Kit 3.0
for nucleic acid detection on the Real-Time PCR Cycler qTOWER³ offers a reliable solution. With a detection limit 17 IU/ml the RoboGene® HCV RNA Quantification Kit 3.0 allows a highly sensitive quantitative analysis of HCV RNA and in varying viral loads of high-to-weak positive concentration ranges. This enables a monitoring of the entire recovery process and supports a successful therapy.