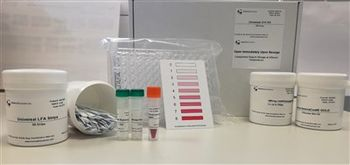 SYGNIS AG today announced the launch of its Universal Lateral Flow Assay (LFA) kit, the latest addition to its expanding range of lateral flow assay products and services which are being commercialized under the
Innova Biosciences
brand name. The novel product provides a tool for the easy, quick development of customized sandwich lateral flow assays. This enables researchers to rapidly progress the R&D of their point-of-care (POC) diagnostic tools thereby providing physicians with faster access to POC testing for rapid early detection of disease. The company has filed a patent application to protect its newly developed product and technology.
The global market for lateral flow assays is growing at 16% per annum and projected to be worth USD 8.2 billion by 2022. This growth is driven by the rising demand for POC testing and the high prevalence of infectious diseases worldwide. The launch of the Universal LFA Kit enables researchers to streamline the R&D of their diagnostic tests, enabling rapid development of POC diagnostic tools for entry into this growing market.
The kit utilizes the Company's world leading patented antibody labeling technologies
Lightning-Link®
and InnovaCoat® GOLD, and enables customers to create lateral flow assay reagents with only a few minutes of hands-on time, without the need to spray down capture antibodies on the test strip, a labor-intensive process that consumes large amounts of expensive antibody reagent.
The Lightning-Link technology within the Universal LFA kit enables quick and easy labeling of up to three analyte capture antibodies of the customers' choice whilst InnovaCoat GOLD technology is used for covalent conjugation of up to three detection antibodies to ultra-high quality gold nanoparticles, thereby providing complete flexibility to the customer offering the ability to optimize a personalized lateral flow assay in a few days instead of weeks.