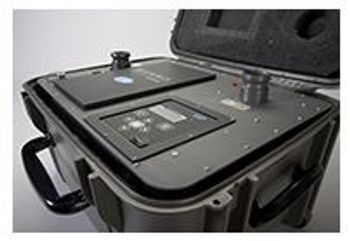 STERIS Corporation announces the addition of the VHP® X10 Biodecontamination Unit to its VHP® portfolio of Biodecontamination Units.
Designed for mobile decontamination of clean, dry, sealed Class II Type A2 biological safety cabinets and other small enclosures, the VHP X10 can process multiple cabinets per day. Customers can expect to achieve a minimum of a 6-log minimum bioburden reduction throughout BSCs in as little as 2–7 hours.
The All-In-One unit and its X-Phase™ hardware technology enables pre-heating, dehumidification, conditioning, biodecontamination and aeration in an all-in-one unit design. Customers will find the X10 easy to use with three factory-programmed cycles: 3-4', 5-6' and XL for biological safety cabinet size.
Packaged in a rugged transport case with retractable handle and wheels for easy transportation, the X10 is available as a multi-lingual unit (English, French, German and Spanish).
The X10 Biodecontamination Unit uses the STERIS proprietary Vaprox® 59 Hydrogen Peroxide Sterilant – a 59% hydrogen peroxide aqueous solution that is registered with the US EPA and European Biocidal Products Regulation. Additionally, VaproxLink™ technology utilizes radio frequency identification to automatically identify sterilant and verify expiration date.
Introduced more than 20 years ago, the STERIS VHP process technology is an environmentally friendly choice over formaldehyde or chlorine oxide processes. The low-temp hydrogen peroxide dry vapor destroys a wide range of microorganisms including bacterial spores, viruses and fungi. The VHP technology does not condense on surfaces, making it a unique choice for sensitive materials including electronic equipment, HEPA filters, and painted surfaces.
"Customer feedback was integral to creating a product that solves challenges for both certifiers and end users," comments Derek Newbould, Product Manager for STERIS Life Sciences.
The VHP X10 Biodecontamination Unit is only to be operated by trained and certified applicators who have successfully completed the STERIS training and certification course for applicators of Vaprox 59 hydrogen peroxide sterilant and the VHP X10 Biodecontamination system operator course.
STERIS Life Sciences offers a wide variety of products specifically designed for supporting STERIS VHP Biodecontamination Units and applications.