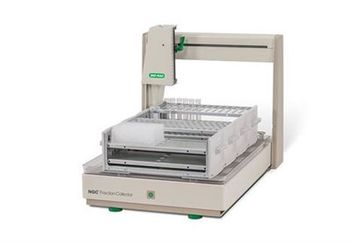 Bio-Rad Laboratories, Inc. (NYSE: BIO and BIOb) today announced the launch of the NGC Fraction Collector. When used with the NGC Chromatography System, the NGC Fraction Collector provides the flexibility and collection capacity needed for any application, from discovery to scale up.
The NGC Fraction Collector allows researchers to choose how to collect and when to access their fractions. The system can be triggered to collect based on slope, percent of buffer from pump B, pH, and detector signals. Front-to-back dispensing provides easy access to fractions before method completion for faster downstream analysis. Researchers can also choose the type of collection vessel they prefer for each phase in a method, including deep-well plates, tubes, bottles, and carboys (with prep-rack adaptors for large-scale purification). Adding two new fraction collectors to each NGC System can further expand capacity.
A highly efficient benchtop Peltier cooling module saves lab space and preserves the integrity of temperature-sensitive biomolecules. An optional enclosure protects samples from environmental conditions while allowing full access during a run. Because the enclosure is optional, the same fraction collector can also be used for reverse-phase chromatography applications.
The NGC Fraction Collector runs on ChromLab 5.0 Software, to which users can upgrade for free, no matter what edition they currently use.