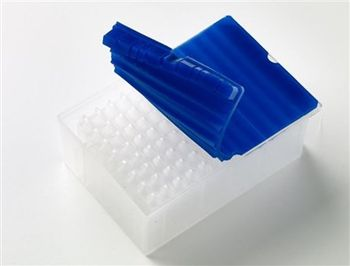 Porvair Sciences has extended its range of silicone impact support mats to protect deep well microplates when they are being centrifuged.

Designed to fit into the skirt of the deep well plates, silicone impact support mats allow plates to be used in a centrifuge without risking plate distortion, cracking or breaking, resulting in well leakage and loss of valuable samples. Impact support mats are now available for Porvair Sciences square deep well plates (2ml, 1ml and 350ul), round well plates (2ml & 1ml) and range of large volume deep well plates.

Porvair Sciences offers a range of high-quality polypropylene deep well plates for applications in cell biology, molecular biology, drug discovery, combinatorial chemistry, screening and genomics. Manufactured under class 10,000 conditions from ultra-pure grade polypropylene, Porvair deep well plates contain no contaminants that may leach out and affect stored sample or bacterial or cell growth. For sensitive biological applications, Porvair also offers a selection of 96-well deep well plates that are available certified as RNase/DNase free.

Available in a selection of well shapes and volumes, Porvair 96-well deep well plates are manufactured to SBS/ANSI dimensions ensuring complete compatibility with microplate washers and automated equipment.