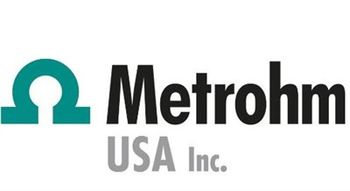 Metrohm USA is proud to announce the release of a new standard leveraging its Combustion Ion Chromatography (CIC) systems. This new standard, ASTM D8150, provides a test method for the determination of harmful organic chlorides in crude oil.

Organic chlorides do not occur naturally in crude oil; they result from operations during the refinery process. These organic chlorides are harmful to productivity and profitability, causing corrosion and damage to important catalysts. Using a CIC for measurement allows the detection of individual halide species such as chloride and fluoride to trace sources of contamination.

Petroleum companies will benefit from this method as they monitor their internal processes and crude feedstocks. Contract testing laboratories that support petroleum products will also benefit from this method.

As a member of ASTM's largest committee D02, Metrohm USA helps develop test methods that ensure the safety of products across the petroleum industry including crude oil, gasoline, diesel fuel, motor oil and liquid propane. Our innovative titration and ion chromatography products paired with the work of ASTM serve the demands of the industry and support the quality, distribution and delivery of petroleum products.

"Instrument manufacturers don't traditionally come to mind when thinking about innovations that impact a diverse industry like petroleum products," says Edward Colihan, President and CEO at Metrohm USA. "We are proud to partner with industry leaders to help drive operational efficiency for our customers and make our world a safer place."

In 2017, the partnership between Metrohm and ASTM resulted in two significant method releases: ASTM D8045 for the determination of Acid Number (AN) in crude oil and petroleum products by thermometric titration and ASTM D7994 which establishes Combustion Ion Chromatography as a standard test method to determine total fluorine, chlorine and sulfur in Liquefied Petroleum Gas (LPG).