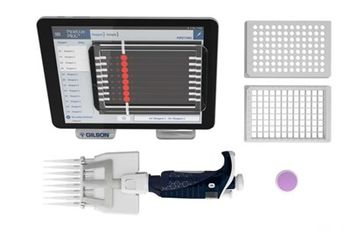 Gilson launches Gilson Connect, a cloud-connected platform that powers a product line of Bluetooth®-enabled, smart liquid handling devices designed to help scientists achieve verifiable science. The first smart products include the TRACKMAN® Connected and PIPETMAN® M Connected. These new lab instruments give scientists the ability to record and track pipette performance data in real-time and transmit them to sciNote, a free, open-source electronic lab notebook (ELN).

"Gilson is bringing the potential of the Internet of Things to the lab, creating a new standard of verifiable science and helping researchers focus on doing actual science instead of data management," said Nicolas Paris, CEO of Gilson, "With the Gilson Connect platform, we envision a connected lab bench of the future in which all scientists have access to laboratory tools that communicate seamlessly with each other."

Studies have shown that 50 to 90 percent of published scientific research cannot be replicated by other scientists. Pipetting can be a significant source of error. Pressing a plunger slower than usual, performing droplet touch-off on the wall of a liquid container, and even ambient temperature can affect performance. Gilson's first Internet of Things (IoT) products aim to help tackle this problem by making the most fundamental manual exercise in the lab—liquid handling—verifiable.

The new TRACKMAN Connected is an all-in-one kit that includes a tablet with PipettePilot™, a microplate pipetting tracker application. The easy-to-use app interacts in real-time with the new PIPETMAN M Connected, a Bluetooth-enabled smart electronic pipette, to guide researchers through their pipetting protocol. By tracking and storing performance, scientists can review the data for errors and export experiment results, accelerating their report sharing capabilities.

Data recording and reporting issues also contribute to irreproducible results. An estimated 17 percent of scientific data is lost each year to a void of missing notebooks, deleted emails, and corrupted files.

The new Gilson devices and apps avoid these problems by enabling data and reports to be pushed to sciNote, an ELN that Gilson has partnered with. Sending data to sciNote automatically creates a secure and consolidated record, helping researchers instantly access and manage the data, create and export reports, or audit the data years later, with far greater speed and reliability than with handwritten notebooks.

Gilson IoT products are available through a limited release to customers who will help co-develop future upgrades through a program of early access testing and feedback. Gilson invites interested labs to join this community by visiting the limited release entry request page.

About TRACKMAN Connected
TRACKMAN Connected is an all-in-one kit that connects the bench in a safe and convenient way. Inside is a Samsung Galaxy Tab S3 tablet preloaded with the app PipettePilot, which guides researchers through microplate pipetting protocols. Results generated by the devices can be saved, shared or synced to sciNote, a free open source electronic lab notebook. TRACKMAN Connected also comes with all the accessories needed to pipette directly on top of the tablet, plus an environment sensor that wirelessly monitors ambient temperature, humidity, and pressure conditions.

About PIPETMAN M Connected
The PIPETMAN M Connected is a Bluetooth pipette that works synchronously with TRACKMAN Connected and the PipettePilot app, giving researchers the ability to set up tasks, pipetting volume, and to record pipetting data locally or push to sciNote.

About Gilson
Gilson is a family owned global manufacturer of sample management and purification solutions for the life sciences industry. We help researchers advance the pace of discovery by creating easy-to-use lab devices that improve reproducibility and traceability. Since 1957, we've been developing innovative products, such as the first continuously adjustable-volume pipette, PIPETMAN®. By partnering closely with the scientific community, we have advanced our portfolio offerings, adding automated pipetting systems and chromatography instruments, plus intuitive software management capabilities. Backed by worldwide R&D, service, and support, Gilson strives to enable verifiable science and to make lab life easier for our customers.