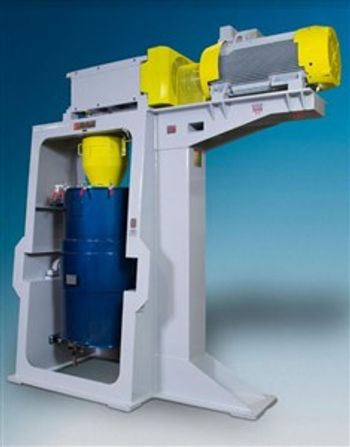 Union Process, Inc., known globally as a manufacturer of particle size reduction and dispersing equipment, as well as a supplier of grinding media and materials characterization services for a broad range of research and industrial applications, has manufactured a unique dry grinding SDL250 Attritor that the customer will use for recycling fibrous material.
Union Process Sales Manager Chuck Major noted, "This is a fairly new application for our Attritors. The customer needed a specially designed heavy-duty mill for continuous dry milling of fiberglass and our SDL250 met their requirements. We included a specially designed material deflector to aid in material feeding."
The stainless steel mill features an elongated design and a flanged inlet for scew feeding the material. It has a 250 HP TEFC motor suitable for a variable frequency drive (VFD). The mill includes a G-series reducer comprised of a heavy-duty right angle gear box with cooling fan. Specially configured hardened tool steel agitator arms increase milling efficiency.

"Our customer is thrilled to be able to recycle material that they had previously been discarding as scrap. This is good for them and great for the environment," noted Mr. Major.
Product discharge is achieved via two metering valves for material discharge flow control.
Since 1946, Union Process has been developing and building custom Attritors for customers with a wide variety of applications all around the world.

Union Process is the inventor and developer of Attritor technology and manufactures wet and dry grinding mills as well as horizontal bead mills.