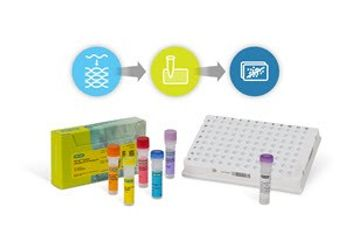 Bio-Rad Laboratories, Inc. (NYSE: BIO and BIOb), a global provider of life science research and clinical diagnostic products, today announced the launch of IncRNA Workflow, a RT-qPCR workflow that is optimized for highly sensitive and specific quantification of long noncoding RNAs (lncRNAs) for gene expression analysis. The workflow provides a streamlined, cost-effective alternative to RNA-Seq for lncRNA discovery and validation.

Quantification of lncRNAs is particularly difficult due to low expression levels seen in some developmental contexts or with certain cell types. Furthermore, lncRNA primer design requires significant time and effort as targets are often positioned in complex genomic loci and can form secondary structures. PrimePCR lncRNA assay designs were developed in collaboration with transcriptome experts at BioGazelle using a design algorithm specifically built for long noncoding RNAs.

Bio-Rad's lncRNA Workflow solves the most pressing challenges in lncRNA discovery and validation with its workflow that includes PrimePCR lncRNA Assays, Predesigned PrimePCR lncRNA Arrays, Custom PrimePCR lncRNA Arrays, and the novel iScript Explore One-Step RT and PreAmp Kit. The workflow offers all the tools necessary to go from experimental sample to lncRNA data analysis.

Researchers can use iScript Explore One-Step RT and PreAmp Kit to preamplify low-abundance lncRNAs, a critical step that expands the number of targets that can be assayed from limited sample material. This single kit allows researchers to perform genomic DNA digestion, reverse transcription and preamplification. Even difficult targets can become readily detectable with the included proprietary reaction booster technology.

For laboratories that find using RNA-Seq for lncRNA discovery is expensive and time-consuming, Bio-Rad's 20 predesigned PrimePCR lncRNA Arrays cover the most active fields for lncRNA research, including cancer, immunology, stem cell biology, and more. The predesigned arrays are expertly curated to include a combination of frequently cited lncRNAs and novel lncRNAs identified through bioinformatic analysis to aid in target discovery. The plates can be paired with Bio-Rad's new Preblended lncRNA PreAmp Assay Pools, which contain all assays necessary to preamplify targets on the corresponding predesigned array, thereby greatly reducing hands-on setup time.

The lncRNA workflow also offers solutions for researchers who have already identified lncRNAs they wish to study and who want to validate or expand their discovery work with a larger group of samples. Bio-Rad's Custom PrimePCR lncRNA Arrays can be designed to include anywhere from 10 to 384 lncRNA and mRNA targets per array. When desired, researchers can also include self-designed individual assays in custom arrays.

The lncRNA workflow is fully compatible with Bio-Rad's CFX Real-Time PCR Detection Systems with CFX Maestro Analysis Software, SsoAdvanced Supermixes, and plastic consumables.