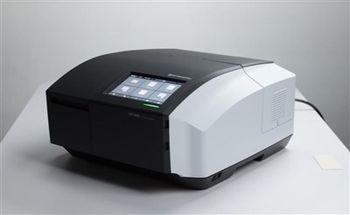 Shimadzu Scientific Instruments (SSI) announces the release of the UV-1900 UV-VIS spectrophotometer. This new instrument incorporates technically advanced features that improve usability, regulatory compliance and performance. The UV-1900 is ideal for analysis in food, pharmaceutical, life science, chemistry and electronics applications.
The UV-1900 is easy to operate because it is equipped with a high-visibility color touch panel that users can control with a finger or the stylus pen provided. The on-screen user interface includes large, easy-to-see icons on a black background, making the instrument settings evident at a glance. Navigation tabs make operation simple, and the user interface minimizes transitions between windows. When the system is in quantitation mode, the stages of the entire measurement process and the current status are shown on the display, allowing users to prepare for the next step. The control panel is ergonomically designed for the optimal viewing angle.
New to the UV-1900 are validation functions that are compliant with the United States Pharmacopeia (USP) and the European Pharmacopeia (EP). The instrument also can run checks for nine JIS items and the Japanese Pharmacopoeia (JP). Operators can save checked conditions and results and easily refer to them as needed. The instrument supports database management, user authority management and data audit trails for compliance with FDA 21 CFR Part 11, PIC/S GMP guidelines, and other ER/ES regulations.
The instrument's ultra-fast scan performance makes it capable of obtaining high-accuracy spectra in just a few seconds. It has a photometric repeatability accuracy of 0.0002 Abs max. (0.5 Abs and 1.0 Abs), an improvement of five times conventional performance levels. With this high photometric repeatability accuracy, variance in the measurement results is suppressed, enabling more accurate quantitation and the detection of low-concentration samples. With a photometric range of -4 to 4 Abs and stray light significantly reduced at 0.5 % max. (198 nm), accurate measurements of high absorbing samples are easily achieved. Measurement modes include photometric, spectrum, quantitation, kinetics, time course and biomethod.