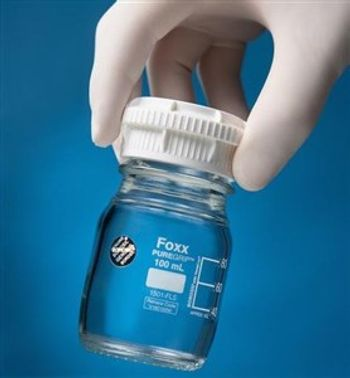 The new PUREGRIP™ line of borosilicate glass reagent bottles have a closure design that improves a user's ability to safely handle the bottle, and certified volumetric markings that guarantee traceable calibration. Designed to be the safest, most accurate glass laboratory bottles on the market, PUREGRIP™ glassware is available at a surprisingly affordable price. The product line was developed jointly as part of the recent collaboration between Foxx Life Sciences and Borosil Glass Works Ltd.
On April 11, 2018, Foxx Life Sciences and Borosil Glass Works Ltd. announced a long-term agreement wherein Foxx Life Sciences will act as the exclusive supplier in North America for Borosil Glass Works premium laboratory glassware. In addition to their agreement, the companies collaborated to develop PUREGRIP™ bottles and flasks, combining an innovative plastic bottle cap with premium quality glassware. "Both Foxx and Borosil are poised to achieve success on a global scale," said Thomas Taylor, CEO of Foxx Life Sciences. "PUREGRIP™ is the first of many synergistic products we plan to launch," Mr. Taylor added.
Breaking the mold in laboratory glassware
Commonly used in laboratories, glass reagent bottles have remained unchanged for years – until now. The new PUREGRIP™ bottles incorporate VersaCap® bottle caps, providing a safe and easy way to handle reagent bottles with gloved hands, especially when the bottles are wet. The patented VersaCap® bottle cap has a protruding ridge that provides a comfortable, secure gripping surface for handling and transporting the bottle. The larger cap is simpler to open or close, and has a wide, flat surface for writing and labeling. VersaCap® caps are constructed from certified USP Class VI and animal-free polypropylene resin with a uniform GL 45 thread and the highest maximum operating temperature of any polypropylene GL 45 cap.
Top quality borosilicate glass
Highly durable 3.3 low expansion ASTM E-438 Type I Class A borosilicate glass is used for PUREGRIP™ bottles and flasks. Bottle sizes come in 100 mL, 250 mL, 500 mL, 1 L, 2 L, 3 L, 5 L, 10 L and 20 L quantities, with a choice of clear or amber glass. PUREGRIP™ flasks range