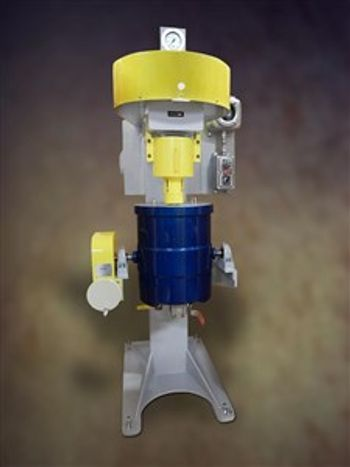 Union Process, Inc., known globally as a manufacturer of particle size reduction and dispersing equipment, as well as a supplier of grinding media and materials characterization services for a broad range of research and industrial applications, has manufactured an S5 Batch Attritor for cutting-edge battery technology.
The customized Attritor has a special high purity Zirconium Oxide (YTZP-stabilized) grinding tank that is jacketed for cooling. The mill is driven by a 7.5 HP motor that is Totally Enclosed, Fan-Cooled (TEFC) and explosion-proof. A variable frequency (inverter) drive is utilized and is installed in a NEMA enclosure.
The agitator shaft is plastic-coated stainless steel and uses reinforced ZrO2-sleeved agitator arms.
An LCD keypad displays motor frequency (Hz) as well as agitator RPM, and motor HP when being used.
The mill also includes a special ZrO2 discharge bar grid for use with the 5MM YTTRIA Zirconium Oxide media being used for the application.
Sales Manager Brian Li noted, "This application is another example of how Union Process Attritors are helping to keep our customers on the leading edge as they design tomorrow's products today."
Since 1946, Union Process has been developing and building custom Attritors for customers with a wide variety of applications all around the world.

Union Process is the inventor and developer of Attritor technology and manufactures wet and dry grinding mills as well as horizontal bead mills.

Attritor is a registered trademark of Union Process, Inc.