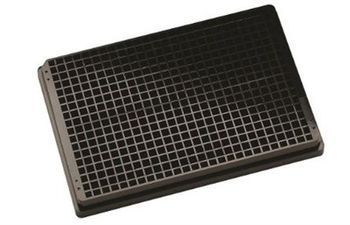 Porvair Sciences introduces new black Krystal UV Quartz bottomed microplates that offer excellent optical transmission in the wavelength range 185nm to 1100nm making them ideal for labs looking to make Circular Dichroism (CD) measurements.
Circular Dichroism is a well-established technique for studying optical isomers (chirality) and secondary structure such as alpha / double helix in biological molecules. Consequently, the technique is of considerable interest in drug discovery and therapeutic applications in particular.
The new quartz-bottomed black polystyrene microplates allow these measurements to be made in a convenient ANSI/SLAS compliant 96- or 384well microplate footprint using next-generation CD spectrometers. The proprietary black polystyrene polymer mix ensures low cross-talk whilst the top-quality quartz bottom gives reduced birefringence, essential for good CD measurements.
Precision engineered to deliver a base planarity approaching +/- 100um across the optical surface of all wells, Porvair Krystal UV quartz microplates give outstanding performance and crisp images allowing proteins and other biological molecules to be imaged and then measured for CD through the base of the plate.
Available singly, or in packs of 10 plates, the black Porvair Krystal UV Quartz assay plates offer a major step forward in enabling high-throughput chirality measurements.