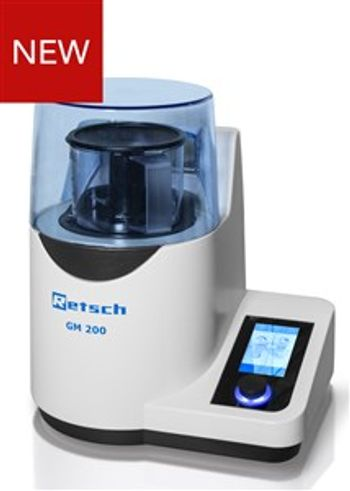 Tough? Fatty? Fibrous? No problem for the new GM 200! The GRINDOMIX is the perfect mill to homogenize dry, oily, fatty, soft and tough sample materials - for analysis results with minimum standard deviation.
The model GM 200 for sample volumes up to 700 ml has been completely revised. Thanks to the powerful 1000 W drive and the innovative Boost function, the mill is powerful enough to homogenize even difficult samples like tough meat with skin or fibrous plants very quickly and efficiently. The new GM 200 is operated via a user-friendly 4.3'' touch display and allows storage of 8 SOPs and 4 program sequences.
The GM 200 is the first RETSCH mill to provide direct access to the new MyRETSCH web portal containing a wealth of product- and application-related information like grinding protocols, videos, operating manuals, tips & tricks etc. The user simply needs to scan the QR code in the display to get access.
New features of the GM 200:
· Convenient operation via 4.3" touch display
· Homogenization even of difficult samples within seconds thanks to powerful 1000 Watt drive
· Boost function with 14.000 rpm facilitates size reduction of fibrous and sticky samples
· Memory for 8 Standard Operating Procedures and 4 program sequences
· Direct access to MyRETSCH web portal with product- and application-specific information
RETSCH is the leading solution provider for neutral-to-analysis sample preparation and characterization of solids. On the basis of more than 100 years of experience RETSCH develops innovative size reduction and sieving equipment which is characterized by excellent performance, operating convenience, safety and a long lifetime.