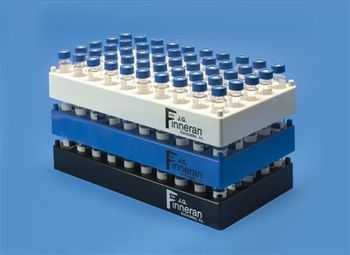 Porvair Sciences has introduced the JG Finneran 50-position stackable rack for 12mm vials and tubes. This new stackable rack is designed to hold 12mm vials and tubes in the optimum orientation for pipetting tasks.

Available in blue, black and white as standard, the 50-position rack is securely stackable saving valuable bench space. Constructed from durable, chemically-resistant polypropylene the 50-position rack is easy to clean and can be repeatably autoclaved.
To maintain sample integrity a clear lid, that still allows stacking, is available for the 50-position rack. Each 50-position rack is imprinted with alphanumeric indexing to assist with sample traceability.

Sold in handy packs of five and a choice of colours the 50-position stackable rack is a valuable piece of labware for scientists tasked with pipetting from 12mm vials and tubes.