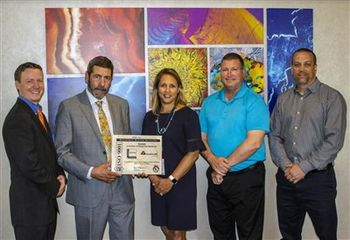 Buehler, an ITW Company and a premier manufacturer of industrial and scientific equipment and supplies for materials analysis is celebrating 20 years of successful ISO certification with DQS Inc., a leading global certification company. DQS President, Brad McGuire, explains, "Buehler is one of only 150 companies that have earned the distinction of 20 years continuous ISO certification with DQS. Buehler has been an early adopter of the ISO 9000 certification program. We are proud to partner with Buehler."
Most recently, Buehler achieved ISO 9001:2015 and ISO 14001:2015 certifications. Buehler is committed to quality and customer satisfaction through rigorous problem solving and continuous improvement with open and regular communication throughout the organization to guarantee ongoing suitability and success in meeting customer expectations. The company develops material applications and product innovations for leading automotive, aerospace, medical and electronics manufacturers. Not only is quality important for Buehler but it is imperative for Buehler's customers.
Julien Noel, Global Director of Strategy and Innovation notes, "During the last few years the Buehler team has been focusing on delivering solutions to help manufacturers by ensuring reliability of equipment and consumables for testing in industries that demand excellence and where only 100% success is acceptable. With this enterprising objective, a lot has happened … many new products were launched, we streamlined online shopping and improved our customer care and service offering, one example of which is an automated eService platform to provide clear communication on service request status."
Julien Noel continues, "Buehler came out with the SimpliMet 4000, a mounting press with specimen duplex capabilities that would speed up the production of mounts in quality control laboratories. Next, the product development team fashioned to create the best precision cutter in the industry – so the IsoMet High Speed precision saw was born and since its launch in early 2017 – sales and positive customer feedback have far exceeded our expectations. After taking in and improving the Wilson line of hardness testing equipment from ITW sister company Instron, Buehler raised the bar and developed DiaMet into the leading hardness testing software available. Most recently the company launched the EcoMet 30, a robust and durable grinder/polisher available as a twin or single model in manual or semi-automatic mode. Again, customer feedback and initial sales demonstrate that we have clear differentiation to what is currently on the market with big wins secured in key labs that include automobile, aerospace and other manufacturers.
Benjamin Mangrich, Buehler Global Marketing and Americas Service Manager adds, "Buehler has also invested in improving its consumables with New Magnetic Backed Polishing Cloths, EpoKwik FC, and a complete line of ISO certified hardness testing blocks. This work is conducted in collaboration with our global team of our materials scientists who provide input, testing and validation that our products will meet the demanding needs of our customers around the world. All these accomplishments are the result of delivering solutions to the market for production reliability, supporting the growth for our customers and improving their bottom line."
Buehler maintains an extensive network of service, distributor and sales engineer teams that are available to meet with customers worldwide at Buehler Solutions Centers (Buehler owned laboratories) or Buehler Partner Centers (customer demonstration laboratories) in every continent.
Meredith Platt, Buehler's General Manager, explains, "The foundation of our company is the ITW Business Model, a unique and differentiated set of core capabilities and business practices that comprises three key elements: ITW's 80/20 Front to Back Process, customer-back innovation and a decentralized entrepreneurial culture. We also strive to achieve our goals following the ITW business model upholding the company values of integrity, respect, trust, shared risk and simplicity at all times. Three years ago when I came to Buehler I challenged each employee to reach for the stars. Buehler employees and operations committed to delivering quality and environmentally responsible products guided by ISO 9001 Quality Management Principles and ISO 14001 Environmental Managements Systems. Today, I can say this team met that challenge but we continue to strive for continuous improvement and raising the bar to ensure we are recognized by our customers as the leader in our industry for quality, reliability and the best customer experience. We still have a lot more work to do but we couldn't be more excited about our future."