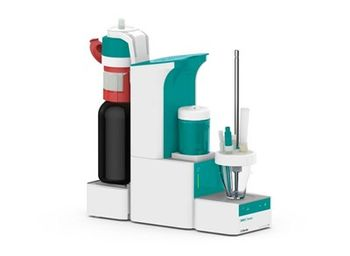 Metrohm is proud to announce the extension of its OMNIS titrator platform to include a fully integrated solution for moisture analysis and water content determination with volumetric Karl Fischer titration.
The OMNIS platform was first released in 2016, making it the only titration system on the market that increases efficiency by up to 60% through parallel titration. This extension of the OMNIS platform to include Karl Fischer moisture measurements further strengthens the company's position in the titration market.

Safe, easy, convenient and fast are the benefits the operator experiences when using an OMNIS system. All chemicals are handled in a closed system, eliminating contact with reagents and solvents. Furthermore, water content determination starts automatically with sample injection and the fully automated system discards used sample after measurement which immediately prepares the cell for the next measurement. The OMNIS platform is intuitive to use as the entire hardware is graphically represented in the user interface. Custom systems can be configured with drag and drop icons using desktop software or a touch screen interface.

The optional sample robot takes the OMNIS experience to the next level, making the system almost completely autonomous and delivering up to 60% time savings when running with four parallel work stations.