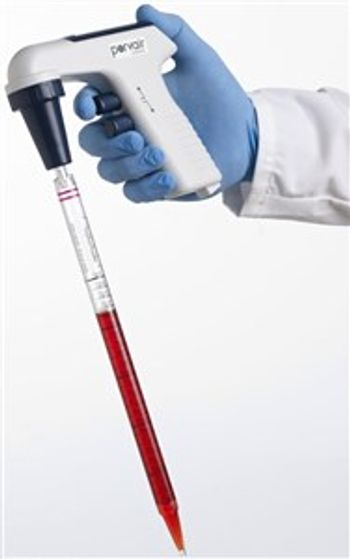 Compact in size, the UltraJet electronic pipette filler from Porvair Sciences is perfect for use even in confined spaces such as safety cabinets and fume hoods. The UltraJet pipette filler is quick and simple to operate. Its lightweight, ergonomic design ensures you can use it for extended periods of time without discomfort.
The UltraJet has a disposable syringe filter inside to protect it from over-filling and a snug neoprene collar to firmly grip the pipette and ensure good directional control. It has been designed to work with all sizes of pipettes from 1 to 25ml and will fill the largest in just 6 seconds.
Large buttons on the hand grip enable precise fine control of aspiration and dispensing of liquids. An integral LCD display displays selected aspiration speed which can be simply set with a button under the display. The UltraJet uses a rechargeable lithium battery, so there are no unsightly cables trailing from it and it comes complete with a self-adhesive bench holder for storage. EC compliant each UltraJet controller is supplied with an appropriate mains charger.